---
Stefan Hofmeyer
Partner, Global Post Merger Integration Partners
Management Consultant and M&A Integration Specialist


Email | Amazon Author Biography | Business Biography | LinkedIn Profile | Twitter

WeChat: shofmeyer | Office: +1 415 738-8109 x168
In addition to post merger integration initiatives through Global PMI Partners, Stefan is available for speaking and short term corporate development opportunities.


---
Corporate Experience

(Abridged list of consultant and full time company experience)
Accenture, ADP, Agilent Technologies, Airbus, AT&T, Blackstone Technology Group, BroadVision, Cadence Design Systems, Citibank, Fireman's Fund Insurance, Goto.com, Infosys, Ingram Micro, Inventa Technologies, McKesson, Motorola, Pacific Gas & Electric, Jack Link's, Siemens, Silicon Valley Bank, TIAA-CREF, WageWorks, Wells Fargo

Competencies
M&A Integration / Divestitures | Program Delivery | Process Optimization | Change Management | Resource Management | PMO / IMO Leadership | Partnership Management | Quality Assurance | Communications Management | International Development | 3rd Party Vendor Management
Education
LPSF Program, Harvard Business School
Stanford Certified Project Manager, Stanford University
MBA (Executive), Graziadio School, Pepperdine University
BSE Majoring in Industrial Engineering, University of Iowa
Stefan Hofmeyer and partners
featured on China CCTV during the 2016 Global Mergers and Acquisitions Summit
organized by Global PMI Partners in Beijing, China.

Personal

Facebook Page | Pre-Facebook Site | Married to Ada Wells | Very proud of his daughter Anika.

Recent Book Contributions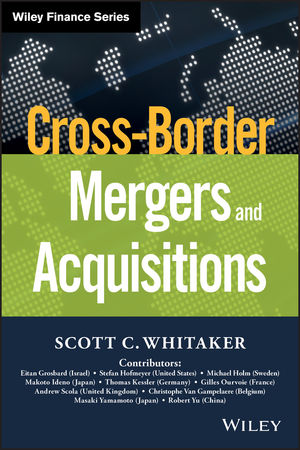 (Click Image to Purchase)
Chapters Contributed by Stefan
Ramping Up an Integration Management Office and Day One in Cross-Border Deals
The IMO is used as an effective tool for complex cross-border M&A integration success. This chapter provides comprehensive understanding of the IMO and describes activity to set up an IMO and to execute a successful Day One.

Integration Decision Making and Process Strategy in Cross-Border Deals
This chapter begins with a discussion of important factors that drive cross-border M&A success. The chapter then discusses leadership styles and related decision-making approaches, goes through tools for decision making, and addresses process development and change.